A prominent Winnipeg restaurant chain has removed two of its company executives and is reviewing its human resources policy after a deluge of allegations of workplace misconduct, sexual harassment and unfair labour practices were posted to social media over the past week.
On Nov. 9, an Instagram account called Not My Stella's began posting stories from current and former employees of the Stella's Cafe and Bakery chain. The allegations range from toxic workplace behaviour to unwanted touching, verbal abuse, racism, transphobia, pregnancy discrimination.
The Stella's chain has become popular in Winnipeg since it opened its first location in 1999. It's since expanded to seven locations, as well as a bakery and catering service. Its brand has been largely built on its image as a homegrown company that caters to a young and progressive clientele.
Since the account first began posting, Not My Stella's has amassed more than 12,000 followers, and the owners of the account say they have received messages from over 300 current and former employees sharing their experiences. There are over 200 posts to their Instagram account like the ones shown here.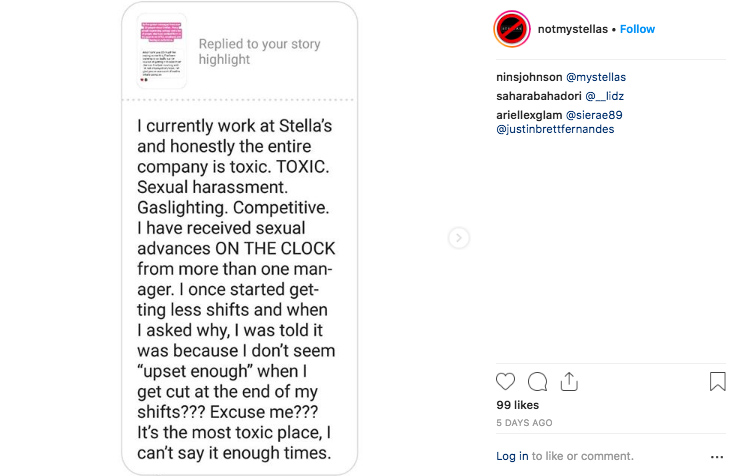 "This is something that happens across the restaurant industry," says Christina Hajjar, the former Stella's server who started Not My Stella's. "But we're also talking about something very specific here, which is a local chain that feeds on this image of great quality, cheap prices, and it is at the expense of frontline workers."