Sign up for a weekly newsletter about President Donald Trump to be delivered to your inbox every Friday.
Donald Trump made it clear at the beginning of his campaign that he wasn't going to follow the normal rules or tone of politics. We're keeping track of all the ways his presidency veers from the norm in terms of policy and rhetoric.

DAY 343

Dec. 29
It's super cold on the East Coast, so Trump thinks climate change is a hoax
Donald Trump unmasked global warming as a international conspiracy to plunder the American economy on Thursday. And he offered the weather as proof.
Noting the frigid temperatures gripping the eastern U.S., the president tweeted, "We could use a little bit of that good old Global Warming that our Country, but not other countries, was going to pay TRILLIONS OF DOLLARS to protect against."
Mistaking weather for climate, often deliberately, is an old trick used by climate change skeptics. But regional weather on a given day reveals nothing about changing global temperatures over decades.
Trump's tweet appeared to reference what the U.S. would have paid for the Paris climate accord, which the president pulled out of in June. While the U.S. did pledge $3 billion to the global fund to fight climate climate change, other countries promised money too, totaling about $10 billion. Trump also cited negative impacts to the U.S. economy, namely a $2.5 trillion loss in gross domestic product. But the stat comes from a conservative think-tank, and other estimates didn't put the cost nearly as high.
READ: 12 changes Trump had made to U.S. environmental policy
To protect his own businesses, however, Trump appears willing to go the extra mile. A recent report revealed how the Trump Organization argued to build a wall next to one of its golf clubs in Ireland to mitigate the ravages of rising sea levels.
— Paul Vale
DAY 341

Dec. 27
Mysterious truck prevents us from seeing Trump in stylish golf pants
President Donald Trump golfs. A lot.
The White House tries to hide that fact. A lot.
On Wednesday, though, the White House evidently stepped it up a notch: As reporters tried to catch a glimpse of Trump golfing near his private club Mar-a-Lago in Palm Beach, Florida, a white box truck drove in front of the president and blocked reporters' view.
It's still unclear who, exactly, hired the truck, but CNN reporter Dan Merica suggested that the driver knew exactly where to park in order to keep reporters from being able to see Trump. Both the Secret Service and the Palm County Sheriff's Department denied to CNN that they had anything to do with the truck.
"This box truck and the video that we have is yet another example of the White House trying to obscure the fact that he's golfing," Merica said.
As a candidate, Trump frequently criticized President Barack Obama for golfing too often. Trump, meanwhile, has now spent nearly one-third of his time as president at one of his properties, according to CNN. And though his aides are often reluctant to confirm whether he's playing golf, CNN reports that he's now spent 87 days at one of his golf courses.
On Tuesday, Trump tweeted that he was ready to go "back to work."
Americans paid for Trump to spend 1/3 of his presidency at his own properties
President Trump woke up Wednesday in Mar-a-Lago, his sprawling property in Palm Beach, Florida. It's his tenth visit to the so-called "Winter White House" since he became president, but he hasn't ignored the other Trump properties: According to a tally by Citizens for Responsibility and Ethics in Washington, Trump has spent a whopping third of his presidency at his own properties, raising questions again about whether he's benefiting financially from the office.
What's more — taxpayers are footing the bill in travel costs. A recent report in the Wall Street Journal found that Trump's frequent jaunts to Mar-a-Lago this year had racked up about $6.6 million in airfare alone. Coast Guard and Secret Service fees add much more.
Trump has reportedly spent 110 days as president at one of his many luxury properties, including the golf resort in Bedminster, New Jersey, where he took a 17-day "working vacation" in August. Ethics critics have cautioned that his numerous visits to Trump properties could be interpreted as promotion for his brand. Amid public pressure, he placed his assets into a trust overseen by his sons before he took office — but that hasn't silenced claims that he's using the presidency to enrich his family.

An analysis by the Washington Post found that Trump likely played golf on 20 percent of the 110 days spent at his properties. Guess he conveniently forgot how much he criticized former President Barack Obama's golfing habits. The Post estimates that Trump has played 69 games of golf since becoming president, compared to 113 games played by Obama over the entirety of his first four years in office.
Meanwhile, if you've got $750 kicking around and have a friend who's a member at Mar-a-Lago (who can afford the $15,000 in annual dues, plus the $200,000 initiation fee) then you could spend New Year's Eve with the president himself. The ticket prices, and dues, have gone up since Trump became president. Last year, according to pool reports, approximately 800 guests dined on "Mr. Trump's wedge salad," wild mushroom and Swiss chard ravioli, sliced tenderloin, pan-seared sea bass, baked alaska, and were treated to a breakfast buffet after midnight. Not to mention access to the president.
Israel plans to name a new train station in Jerusalem after Trump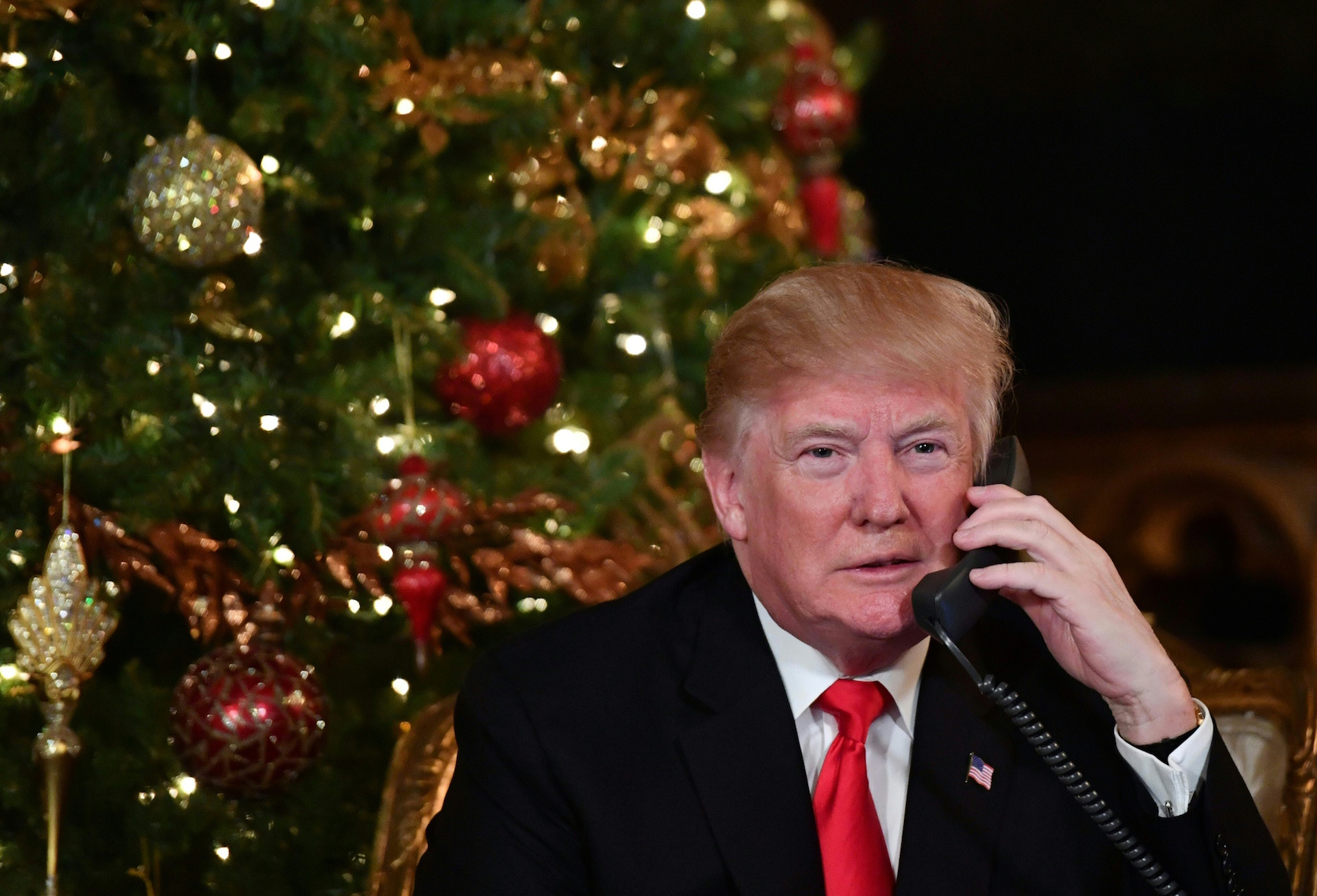 Israel is building two new train stations in Jerusalem. The station near the Western Wall, the holiest site in Judaism, will be named after Donald John Trump.
Yisrael Katz, Israel's minister of transportation, decided to honor President Trump after he made the decision to recognize Jerusalem as Israel's capital.
"Donald John Trump, Western Wall" station will be an extension of a new high speed rail line connecting Tel Aviv and Jerusalem. Passengers on the railway will be able to complete the trip from Ben Gurion International Airport to Jerusalem's convention center in just under 30 minutes. Trump station and one other will be extensions of the new line.
"The project is of supreme importance in strengthening Jerusalem's status during this period, in the midst of the struggle over the status of Jerusalem as the capital of the Jewish people and the State of Israel," Katz said, in a statement provided to VICE News.
"The extension of the express train line to Jerusalem to the Western Wall is the most important national project currently under way in the Ministry of Transportation," said Katz
The Western Wall is part of the temple mount complex in Jerusalem's Old City. In addition to the Kotel, it is home to Al Asqa Mosque, one of the three holiest sites in Islam.
In recent years the site has been a center of conflict over Israeli administration of Palestinian territory and citizens.
VICE News contacted the Israeli Police to find out if there were special concerns for the new station given its proximity to key sites, and its high profile name. The police did not immediately respond.
According to Yedioth Ahronoth the new high-speed train will include a "special car" that will allow for VIPs and their entourage to be sped from the airport to the Kotel.
— Michael Hopper
Obama just took a not-so-veiled swipe at Trump's Twitter habit
Barack Obama warned Wednesday that reckless use of social media can spread misinformation and give rise to people living in "entirely different realities" — a possible veiled swipe at Donald Trump.
In his first interview since leaving office in January, the former president told Britain's Prince Harry on BBC Radio that social media can lead to facts being sidelined and biases reinforced, and those in power should be wary when posting, so as not to corrode civil discourse.
Though Obama didn't mention his name, Trump is a prolific Twitter user, often posting demonstrable untruths, propaganda, and inflammatory content.
"All of us in leadership have to find ways in which we can create a common space on the internet," he told BBC Radio 4's Today show. "One of the dangers of the internet is that people can have entirely different realities. They can be cocooned in information that reinforces their current biases," he added.
"The question has to do with how do we harness this technology in a way that allows a multiplicity of voices, allows a diversity of views, but doesn't lead to a Balkanization of society and allows ways of finding common ground," he added.
Obama said it's important for people to meet offline and "get to know each other."
"On the internet, everything is simplified," he said. "When you meet people face to face, it turns out that people are complicated."
On leaving the Oval Office after eight years, Obama said he had "concerns about how the country moves forward but, you know, overall there was serenity there." He did not take the opportunity to directly criticize his successor, despite Trump continuing to voice his condemnation of Obama from the White House.
Harry, guest-editing the show, has become friends with the Obamas in recent years through his work with the Invictus games, a sporting event for wounded or injured veterans.
A report earlier this week suggested the prince wants to invite the Obamas to his London wedding to Meghan Markle next year. However, the British government is concerned such a move would upset Trump.
Listen to the full interview here .
— Paul Vale
DAY 340

Dec. 26
Foreign leaders are still waiting for an invite to Trump's first state dinner
After nearly a year in office, President Donald Trump has yet to host a state dinner for a visiting foreign leader. And he's the first president in nearly a century to skip those hosting duties.

State dinners are typically lavish affairs, meant to cement and celebrate the United States' relationship with a foreign power. As a candidate, however, Trump denounced such dinners, telling Fox News in 2015 that he wouldn't throw one for Chinese President Xi Jinping.
"I'd get him a McDonald's hamburger and I'd say we gotta get down to work," Trump said. (He'd be generous with the burger, though: "I would give him a double, probably a double-size Big Mac," he added.)
Calvin Coolidge was the last president to skip hosting a state dinner in his first year in office, the White House Historical Society told the Associated Press. He had a good excuse, though, since he took office after President Warren G. Harding died of a heart attack. President Barack Obama hosted only one state dinner in his first year in office.

White House spokesperson Sarah Huckabee Sanders told the Associated Press that there was "no singular reason" why Trump has yet to host a state dinner, and said the administration wants to schedule one in 2018.
Plus, President Trump is still slightly more formal than Candidate Trump. When Xi visited Mar-a-Lago in the spring, Trump didn't end up just handing him a McDonald's burger — instead, he gave Xi a slice of the "most beautiful piece of chocolate cake that you've ever seen" as the two men discussed Trump's decision to bomb Syria on a patio that looked to be within earshot of regular Mar-a-Lago club members.
—Carter Sherman