The Ku Klux Klan has put out an editorial expressing support for Republican presidential nominee Donald Trump in the fall edition of its quarterly newspaper, The Crusader.
Under the headline "Make America Great Again," Thomas Robb, the national director of the White Knights of the Ku Klux Klan, explained why he is throwing his support behind Trump, and a lot of it has to do with his campaign slogan.
"I am not sure how many people this slogan resonates with, but evidently there was enough to allow Trump to win the Republican primary," Robb wrote. "The slogan appeals to people who are sadly realizing that something has happened to America. And it's not good!"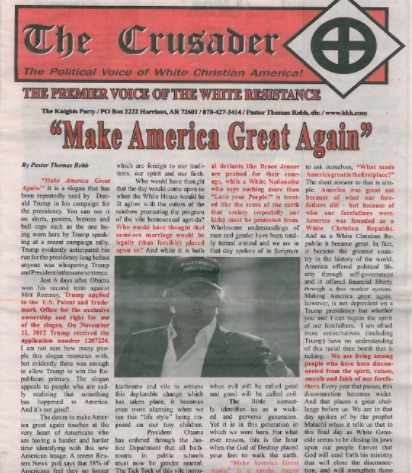 It didn't bother Robb that Trump disavowed the support of David Duke, the former Grand Wizard of the KKK, earlier this year. Robb says Duke is a good friend of his.
"We don't really care; [Trump] can denounce us all day long," Robb told VICE News. "We're more concerned about the message." That message, Robb says, is "a white identity we're preserving."