The organizers of Burning Man have a message for Fyre Festival attendees who are being offered $325 "pre-sale" tickets by a company called NYC VIP Access: Don't buy them.
The offer of tickets to the annual counterculture event in Nevada's Black Rock desert, which normally range between $425 and $1,200, is one of the latest "deals" sent to attendees of the Fyre Festival, many of whom have been approached by NYC VIP Access with offers that, like the two-day concert festival that imploded last spring, appear too good to be true.
The offers, which have included a private dinner with LeBron James, front-row seats at the still-unannounced Victoria's Secret Fashion Show, and backstage passes to meet top-tier artists like Ed Sheeran, Demi Lovato, and Taylor Swift, have been coming over the past few weeks, from a 20-year-old California man named Frank Tribble, who says he is working as a representative for NYC VIP Access.
In an email to one interested buyer, Joel Remland, Tribble claimed the discounted tickets to Burning Man were obtained through partnerships with corporate sponsors.
Read more: Fyre Festival attendees worry they're getting scammed again
But the organizers behind Burning Man — which practices under a principle of "decommodification," even going so far as to encourage attendees to "cover logos" on their belongings — say what Tribble is offering is just not possible.
"Burning Man has not started selling tickets yet. We warn people extensively to only buy tickets directly from Burning Man or from trusted sources. This isn't fraud directed at us, but rather at the individuals who are duped into purchasing the 'tickets,'" Burning Man communications manager Dominique Debucquoy-Dodley said in an email Tuesday.
Asked if Burning Man has any sponsors at all, and if so, would Tribble be able to obtain tickets through them, Debucquoy-Dodley said, "No and, therefore, no."
Official pre-sale tickets to the desert event won't be made available until January 31, and are available only to those who create "burner profiles" in advance. But Tribble has been telling Fyre Festival attendees — or those once on the Fyre Festival mailing list — that he has an inside track to obtain tickets at a significant discount.
Read more: Fyre Festival organizers blew all their money early on models, planes, and yachts
"We were going to save this, but the snow in NYC today has us thinking of the playa. We have 2018 Burning Man (8/26-9/3) passes today only for $325 per person," he wrote in an email sent on Jan. 4 and provided to VICE News. "Ticket prices go up to $525 tomorrow until we sell our allocation."
Though Burning Man only sells tickets in sets of two or four for a maximum of 10 per person, Tribble told Remland that he could sell him as many as 12 tickets, email records show.
Remland, who said he found the exchange suspicious, replied to Tribble's offer: "I just checked the Burning Man website, and it says tickets aren't on sale yet...just curious how you have them already?"
Read more: Fyre Festival's 25-year-old organizer: "This is the worst day of my life"
Tribble responded, saying, "We partner with sponsors to get bulk access," and sent along a contract and credit card authorization form.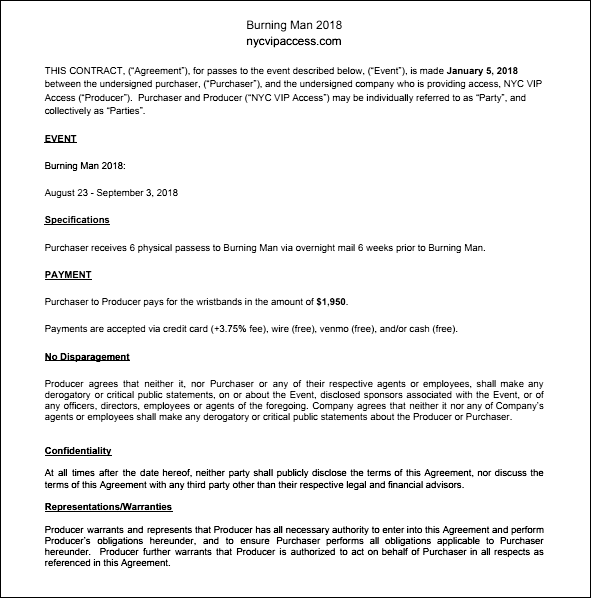 By then, Remland had stopped responding. But Tribble still followed up two days later, saying, "Please return by end of day Monday so we can keep the discounted price."
Reached by phone Tuesday night to discuss the Burning Man discrepancies, Tribble claimed that the initial story on the company published by VICE News last week "was completely inaccurate," but declined to identify which portions he felt were untrue. Citing an "exclusive agreement with another media outlet," preventing him from speaking further, he asked to take the rest of the conversation off the record before abruptly hanging up.
Photo: Flickr user HawaiiSavvy
An earlier version of this story misspelled Debucquoy-Dodley's name; it has since been updated.