Oil prices are dropping right now, but the reasons why it's dropping aren't necessarily such good news for consumers.
Crude tumbled about 3 percent to trade below $50 a barrel in New York on Friday afternoon. The selling was driven in part by traders' nervousness about Tropical Storm Nate, which is swirling in the Gulf of Mexico and on a trajectory that may soon threaten key U.S. refining facilities in the southeast.
If the storm does eventually make landfall in coastal Texas or Louisiana, it would likely lead to shutdowns of refineries and thus reduced purchases of crude to turn into gasoline and other finished fuels. Such a scenario played out recently around Hurricane Harvey, which temporarily shuttered more than one-fifth of all U.S. refining capacity and prompted a September spike in retail gasoline prices.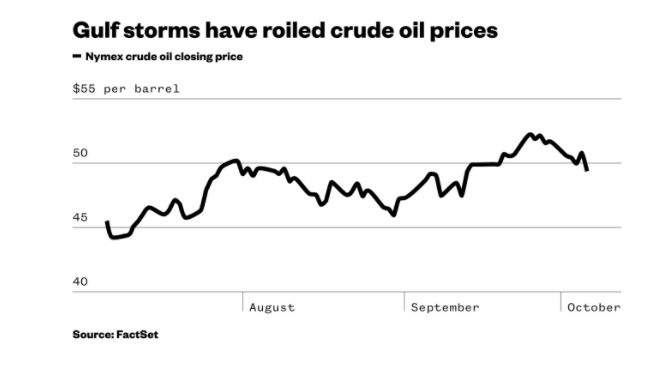 Nate is the latest addition to a growing list of factors weighing on oil. The commodity tumbled 4 percent for the week, its first weekly decline in a month.
Other market drivers lately have included: