Sign up for a weekly newsletter about President Donald Trump to be delivered to your inbox every Friday.
Donald Trump made it clear at the beginning of his campaign that he wasn't going to follow the normal rules or tone of politics. We're keeping track of all the ways his presidency veers from the norm in terms of policy and rhetoric.
See earlier updates from November, December, January, February, March, April, and May.
Day 159

June 27
Trump says all media is a lie after CNN retracts one story
President Trump's favorite "fake news" punching bag, CNN, had to retract a story it published Friday asserting the Senate was investigating a Trump transition team member's ties to a Russian investment fund. The resulting scandal has caused three CNN employees to resign and given the president fodder for an extended Twitter rant culminating in an accusation leveled at pretty much every major media outlet except Fox News.
Day 158

June 26
Trump blames Obama for Russian meddling he won't admit happened
The Trump administration has been downplaying the investigation into Russian meddling for months now, but this weekend Trump himself publicly acknowledged there was a problem — with the Obama administration.
"The reason that President Obama did NOTHING about Russia after being notified by the CIA of meddling is that he expected Clinton would win and did not want to 'rock the boat.' He didn't 'choke,' he colluded or obstructed, and it did the Dems and Crooked Hillary no good," the president said in a series of tweets. "The real story is that President Obama did NOTHING after being informed in August about Russian meddling. With 4 months looking at Russia under a magnifying glass, they have zero 'tapes' of T people colluding. There is no collusion & no obstruction. I should be given apology!"
Adviser Kellyanne Conway — who previously called the idea of Russian interference in the election "laughable and ridiculous" — also argued Sunday on ABC's "This Week" that it was Obama's fault for not stopping it.
"It's the Obama administration that was responsible for doing absolutely nothing from August to January with the knowledge that Russia was hacking into our election," Conway said. "They did absolutely nothing. They're responsible for this."
In a confusing and yet somewhat predictable twist, White House press secretary Sean Spicer told reporters at an off-camera briefing Monday that Trump isn't sure if he even believes Russia was involved at all.
"He believes that Russia probably was involved, potentially some other countries as well could have been equally involved," Spicer said. But if Russia did meddle, Spicer said, it was definitely Obama's fault.
"There does seem to be a bit of hypocrisy, in terms of what [the Obama administration] didn't clearly do if they truly believed all this was happening," Spicer said. "The question is, if they didn't take any action, does that make them complicit? I think there's a lot of questions that have to get answered about who knew what and when."
The Russia probe now includes Kushner's $285 million loan
Back when Jared Kushner was just an adviser to his father-in-law's campaign, he was also still an active executive in his family's real estate company — a company that received a $285 million loan from Deutsche Bank just a month before the election, according to the Washington Post.
At the time, Deutsche Bank was attempting to settle a federal mortgage fraud case and charges from New York state regulators for its alleged role in a possible Russian money-laundering scheme, the Washington Post reported. The loan given to Kushner Cos. contributed to a refinancing package for one of its properties in Manhattan.
Kushner (now a top White House adviser, who divested although still stands to profit from the real estate company) didn't include the personal guarantee he made on the loan in his financial disclosures to the Office of Government Ethics. Kushner's lawyer, however, claims the loan didn't need to go on the forms because Kushner doesn't need to pay the money back right away.
The loan will now be yet another facet of special counsel Robert Mueller's ongoing investigation into the connections between Russia and the Trump campaign, although Deutsche Bank, citing privacy laws, has refused to comply with a Congressional request for assistance.
Trump golfed instead of hosting annual White House Ramadan dinner
To say Trump has a poor relationship with the Muslim community would be an understatement.
Since the day he announced his bid for the White House, Trump has done a lot to alienate American Muslims — from calling for the surveillance of mosques to expressing his belief that "Islam hates us."
Since taking office, President Trump has continued his efforts, hiring noted Islamophobes into the highest ranks, signing multiple "Muslim ban" executive orders, and all but ignoring hate crimes perpetrated on the Muslim community.
So we shouldn't be surprised that Trump is the first president in 20 years not to host an Eid al-Fitr dinner at the White House.
Introduced by then-first lady Hillary Clinton in 1996, the presidential Iftar dinner, which celebrates the end of fasting and charitable giving during the holy month of Ramadan, has been a tradition ever since, hosting U.S. Muslim leaders and diplomats.
In May, U.S. Secretary of State Rex Tillerson received and rejected the recommendation of his own department's office of religion and global affairs to hold the annual dinner.
The White House has yet to explain why it ended the annual tradition, but on Saturday, presumably from Trump National Golf Club in Virginia, the president released a brief statement acknowledging the holiday. "On behalf of the American people, Melania and I send our warm greetings to Muslims as they celebrate Eid al-Fitr."
Clad in weekend wear, Trump resumed his favorite presidential pastime on Sunday, marking his his 31st visit to one of his company's golf courses since becoming president.
Nevermind that West Wing desk. Ivanka is just along "for the ride."
First daughter Ivanka Trump told "Fox & Friends" in an interview Monday morning that she prefers to keep a distance from affairs of state. The struggle must be pretty real, considering she has a West Wing office within spitting distance of the Oval Office and her official title is assistant to the president, her father.
"I try to stay out of politics," Ivanka said on the Trump-friendly cable show. She went on to tout her father's political instincts as "phenomenal." "He did something that no one could have imagined he'd be able to accomplish, I feel blessed just being part of the ride from Day One and before. But he did something pretty remarkable. But I don't profess to be a political savant," said the Trump offspring who's most often portrayed as the voice of reason for her father and his politics.
Day 155

June 23
Trump has turned on his own people
President Donald Trump prides himself on being a straight talker and not letting little things like manners stop him from getting what he wants — even if that something is just avoiding having to walk 20 feet to golf.
In a video tweeted by Sports Illustrated Thursday, Trump drove his golf cart over the manicured green section of what appears to be the Trump National Golf Club in New Jersey. As Golf.com points out, that's a "staunch no-no in golf decorum," since it can permanently damage the course, which will host the women's U.S. Open next month.
A former Trump National Golf Club member told the Washington Post Trump does this all the time.
Trump, who frequently spends his weekends golfing at his courses in New Jersey and Florida, had to know the drive was a severe breach of golf protocol. But he also had to know that, as the owner of the club — and, you know, as the president of the United States — there's nothing anyone can do about it.
And sure, Trump's technically free to do what he wants on the green. He's also technically free to put ketchup on his well-done steak, demand that he gets two scoops of ice cream while everybody else gets only one, and use scotch tape on his ties. But just because you can do something doesn't make it right.
Trump slams Mueller's team as all "Clinton supporters"
Appearing on his most-tweeted-about show in his first TV interview in six weeks, the president took some swipes at the man who's investigating him for obstruction of justice.
It started nice enough. "Robert Mueller is an honorable man, and hopefully he'll come up with an honorable conclusion," Trump told the hosts of "Fox and Friends" Friday morning. But then he added, "He's very, very good friends with Comey, which is bothersome."
Mueller was appointed to lead the investigation into the Trump campaign's ties to Russia after Trump fired FBI Director James Comey, in early May. The Trump administration has been hard at work trying to discredit Mueller for the past several weeks. Last weekend, Trump trotted out a new lawyer, Jay Sekulow, who made the rounds on the Sunday talk shows proclaiming that Trump is not under investigation. Sources say he is — even the president acknowledged as much in a tweet last week.
"There has been no obstruction, no collusion — there has been leaking, by Comey," the president asserted in the Fox interview.
And still, even after Comey's testimony that the president inappropriately asked for Comey's loyalty at a private dinner at the White House, Trump continues to expect allegiance from those who are supposed to be independent from the White House. He criticized the makeup of the team hired by Mueller to conduct the investigation: "The people who have been hired are all Hillary Clinton supporters."
Day 154

June 22
Trump is getting sued again
President Donald Trump can add yet another lawsuit to his growing list of legal headaches.
The watchdog group Citizens for Responsibility and Ethics in Washington (CREW) and the National Security Archive filed a lawsuit against the president and his office Thursday, alleging that White House officials' use of confidential messaging apps — like Signal — and deletion of Trump's tweets are violations of the Presidential Records Act. That act requires the White House to preserve certain records so that the public can one day see them.
"The American people not only deserve to know how their government is making important decisions; it's the law," Noah Bookbinder, CREW's executive director, said in a statement. "By deleting these records, the White House is destroying essential historical records."
The lawsuit also argues that because the Trump administration has "centralized much of the governmental decision-making within the White House" through issuing executive order after executive order, it's sought to avoid complying with Freedom of Information Act requests. While federal agencies' records can be requested, White House records are immune from disclosure.
This isn't the first time CREW has sued Trump. They're also going after him for the release of the White House visitor logs (with the aid of the National Security Archive), and for allegedly violating the Constitution's emoluments clause by receiving payments from foreign governments.
Trump made up the whole "tapes" thing to bully Comey
President Donald Trump, the person who threateningly raised the possibility that there might be taped recordings of his notorious conversations with former FBI Director James Comey, now wants the world to know that there are no tapes. Er, well, no tapes that he made, or knows of… Translation: Trump seems to be admitting that, he kinda, sorta, maybe, probably made up the whole taped recordings-thing in a brief moment of Twitter rage.
On a day when all eyes and anger are on the Republican-controlled Senate's new health care bill, Trump reignited his trustworthy old flame: the Russia probe and his beef with Comey.
In May, Trump threatened Comey with the possible existence of their recorded conversations, as a way to "ensure Comey told the truth," an anonymous source told Bloomberg.
But Comey didn't bend to Trump's twitter threats. The former FBI director went on to release his notes and memos from their interactions as well as testify before the Senate Intelligence Committee, in which he famously proclaimed, "Lordy, I hope there are tapes."
Lordy, we did too. But alas, like much of what Trump says on Twitter, the tapes are pure fiction.
Trump appointee made $430,000 as Saudi foreign agent
Trump's love for foreign agents will not be contained.
Ever the devout swamp-custodian, the president has tied himself to another official with potential conflicts of interest — $430,000 worth of potential conflicts, to be precise.
Trump recently tapped longtime Republican lobbyist and late Trump adopter Richard Hohlt to join his President's Commission on White House Fellowships, advisers who help the president select finalists for the White House's long-running fellowship program. Funny thing is, since January, Hohlt has been a registered foreign agent, earning roughly $430,000 from Saudi Arabia's foreign ministry to lobby on behalf of Trump's favorite kingdom in the Middle East, the Center for Public Integrity reported Thursday.
This makes three registered foreign agents tapped to join Trump's administration: Monica Crowley, who ultimately declined her position as senior director of strategic communications at the National Security Council due to a plagiarism scandal, registered as a foreign agent to a Ukrainian billionaire in March. Disgraced NSC adviser Michael Flynn, a key figure in the FBI's ever-widening Russia probe, retroactively registered as a foreign agent in March for his lobbying work on behalf of Turkish government.
Trump regularly promised to #draintheswamp on the campaign trail, vowing in a tweet to "issue a lifetime ban against senior executive branch officials lobbying on behalf of a FOREIGN Government!"
The swamp, apparently, is more temperate than he used to think.
Trump asked senior intel officials to deny any Russia collusion
President Trump made two top officials in the U.S. intelligence community feel "odd" and "uncomfortable" when he asked them to publicly state there was no collusion between his campaign team and Russia. This is what Director of National Intelligence Dan Coats and NSA Director Adm. Mike Rogers told special counsel Robert Mueller last week, backing up an account first reported in May.
The news comes two weeks after the June 7 public hearings when Coats and Rogers frustrated members of the Senate Intelligence Committee by refusing to give clear answers as to whether the President had asked them to downplay reports of collusion between the White House and Russia.
CNN, citing multiple sources Thursday, said that at separate meetings last week with investigators on Mueller's team, Coats and Rogers finally disclosed the details of their interactions with Trump, meetings they described as "odd" and "uncomfortable." However, both men said they didn't believe the president was attempting to get them to interfere with the investigation.
Both men faced the Senate Intelligence Committee on June 7, but failed to clearly answer questions about their interactions with Trump. The reason for this, CNN revealed, was that both men were unsure whether their meetings were protected under executive privilege. They asked the White House for guidance, but didn't receive an answer before the public hearings took place.
As well as meeting Mueller's team, Coats and Rogers also met again with the Senate Intelligence Committee last week, this time in a closed session, where they repeated their claim about Trump's request.
The testimony of the two men will form part of Mueller's ongoing investigation into Trump's links to Russia, as well as help a supposed internal investigation into whether Trump obstructed justice — an investigation Trump and his team can't seem to confirm is real or not.
Day 152

June 20
For some reason, Trump's FBI director pick deleted mention of Russia from his bio
For some reason, President Donald Trump's pick for director of the FBI deleted a reference to work he did involving the Russian government from his bio.
Trump's nominee to replace James Comey as FBI director, Christopher Wray, once represented an American energy executive during a criminal investigation by the Russian government, CNN reported Tuesday. And while that detail had been a part of Wray's online bio on his old law firm's website since 2009, it was scrubbed from the page in January 2017. The rest of his bio remains largely unchanged.
A spokesperson for the firm, King and Spalding, told CNN that Wray had decided to make the change himself, long before being considered for the FBI job, in an effort to make "the material more current." That spokesperson also pointed out that Wray was defending the client against the Russian government; still, the link will almost certainly come up in his Senate confirmation hearings.
King and Spalding has also represented several countries negotiating deals in Russia's energy sector.
Russia drags down Trump's approval numbers to all-time low
That "Russia thing" won't stop causing trouble for Donald Trump. Now it's even hurting his ratings among Republicans.
A recent CBS poll puts his approval rating at an all-time low of 36 percent, down from the previously reported low of 39 percent in late February, but what's notable is the drop in favorability among his own party' from 83 percent in April to 72 percent.
The poll focused on the Russia probe and three other main issues: the president's handling of the recent Virginia shooting, the economy, and terrorism. Some 40 percent of Republicans now think it's at least somewhat likely the Trump campaign had inappropriate contact with Russia, a sizable increase from 25 percent in March. And Republicans are displeased with Trump's conduct relating to the Russia inquiry, as only 57 percent approve of his handling of the situation.
Over half of the Republicans polled think the Russian investigation is a political distraction, and only one in five think Russian interference in the 2016 election is a critical national security matter. Well over half of Republican respondents, 64 percent, said they believe Trump over former FBI Director James Comey with regard to the Russia probe, but when asked if Trump should try to stop the investigation, 75 percent of Republicans polled answered no.
The poll was conducted via telephone from June 15-18 among a random sample of 1,117 adults nationwide with the help of research group SSRS, based in Media, Pennsylvania. The survey has a margin of error of 4 percentage points.
Day 151

June 19
Flynn lied about yet another Russia encounter, Democrats say
Democratic lawmakers have identified what they say is another undisclosed contact with foreign officials by former national security adviser Michael Flynn.
In a letter to Flynn's attorney Monday, Democrats said Flynn, who was forced to resign after misleading Vice President Mike Pence about the contents of his discussions with a Russian ambassador, failed to report a trip he made in 2015 to the Middle East as part of a joint U.S.-Russia deal to build nuclear reactors in Saudi Arabia. The trip should have been disclosed as part of his security clearance renewal submitted this past January, but Democrats say he omitted it in both his written application and in-person interview.
"It appears that General Flynn failed to disclose a trip he took to the Middle East in the summer of 2015 to pursue a joint U.S.-Russian business venture to develop nuclear facilities located in — and financed by — Saudi Arabia," said the letter, signed by Rep. Elijah Cummings, the ranking member of the House Oversight Committee, and Rep. Eliot Engel, the ranking member of the House Foreign Affairs Committee. "Soon after he took this trip, Saudi Arabia announced an agreement with Russia's state nuclear corporation, Rosatom, that resulted in a $100 billion deal in 2016 to build 16 nuclear power units. It does not appear that General Flynn disclosed this trip or any foreign contacts as part of his security clearance renewal process."
Cummings and Engel also said Flynn declined to identify "even a single foreign government official he had contact with" in the seven years prior to his security clearance application — despite mentioning during a public speech the same week he submitted the forms that "I've talked to many of these leaders there, you know, over the last few years, certainly over the last decade, if not the last, probably, six months." Flynn has since amended his filings to reflect that he was working as a foreign agent on behalf of Turkey during the Trump campaign.
Flynn is reportedly cooperating with subpoenas from the Senate Intelligence Committee, though his attorney declined to comment to multiple outlets.
The Democrats say Flynn filed misleading disclosures concerning a second Saudi Arabia trip he took in October 2015, claiming that he traveled to the country "with a friend for six days to speak at a conference" where he stayed at the King Khaled International Hotel and had his expenses covered by a "work sponsor" — claims Democrats say they have been unable to verify.
"General Flynn failed to disclose the identity of the friend who accompanied him; officials from General Flynn's speaker's [sic] bureaus could not identify any conference he may have attended during this time period; there does not appear to be a hotel with the name General Flynn provided; and General Flynn failed to disclose who sponsored his trip," the letter alleges.
It appears Democrats became aware Flynn made more than one trip to Saudi Arabia in part because he spoke of a "fairly extensive trip" to the country while testifying before the House Committee on Foreign Affairs in June 2015 — four months before the trip he disclosed on his clearance forms.
Trump plugs lawyer's spot on "Fox & Friends" as world crises unfold
Sometimes you have to wonder about Donald Trump's priorities.
Early Monday the leader of the free world ignored a fresh set of crises unfolding in London, Japan, and Syria in order to tweet-plug his personal lawyer's guest spot on his fave cable news show, "Fox & Friends" (which, after all, has been very friendly to him).
While the U.S. Navy responds to one of its worst accidents in decades, London copes with another terror attack, and the war in Syria threatens to entrap U.S. forces into its quagmire, Trump's attention was on Jay Sekulow, the self-contradicting, media-blitzing lawyer who can't seem to get his story straight on whether the president is under investigation for obstruction of justice.
But Trump apparently thought better of the tweet, deleting it shortly after it went up.
Instead he turned his attention to one of his other favorite non–"witch hunt" subjects: Democrats and obstruction.
Day 148

June 16
Running for president might have been Trump's best business decision ever
In 2015, then-presidential nominee Donald Trump's private club Mar-a-Lago brought him $29.8 million in income. That's far from pocket change, but it's dwarfed by income Mar-a-Lago has generated during the 2016 calendar year, financial disclosure forms released Friday reveal.
The Palm Beach, Florida-based club, which Trump crowned his "Winter White House," saw its income spike to about $37.2 million in 2016. And Mar-a-Lago isn't Trump's only exploding source of income. Royalties from Trump's 1987 bestseller, "The Art of the Deal," have also increased massively — he reported earning between $50,000 and $100,000 from the book in 2015. Last year, he made between $100,000 and $1 million.
Trump, unlike past presidents, has refused to give up ownership of his businesses or to release his tax returns. Friday's forms don't reveal how much Trump may have paid in taxes or capture his exact net worth, but they do provide a portrait of his business empire, and the business of being a president is booming.
Even Trump's lawyer has a lawyer now
President Donald Trump may have denounced the various investigation into Russian meddling as nothing more than a "witch hunt," but it's definitely got people in his orbit spooked. At this point, even Trump's own lawyer has a lawyer.
Michael Cohen, Trump's longtime personal lawyer and adviser, has hired the D.C.-based attorney Stephen Ryan to represent him, Cohen told CNN Friday. The hire comes in the wake of Cohen's being subpoenaed by the House Intelligence Committee as part of its probe into Russia's interference in the 2016 election. Cohen has said he's "committed to comply" to its inquiry, but it seems he's not taking any chances.
And he's not alone: It was revealed Thursday that Vice President Mike Pence has also retained his own lawyer, an attorney known for white-collar criminal defense. Trump himself also has another lawyer, Marc Kasowitz, to represent him throughout the Russia probe. (White House counsel represents the office of the president, not the man.) Could this investigation single-handedly solve the legal unemployment crisis? I'll have to check with counsel.
Trump throws tantrum over Deputy AG Rosenstein's "witch hunt"
The Trump tweet term of the week is "witch hunt," with the president blaming everyone from the "Fake News Media" to "the very bad and conflicted people" for making him the victim of the "single greatest" witch hunt in American history. And now he's blaming Deputy AG Rod Rosenstein, who appointed special counsel Robert Mueller, for continuing the hunt.
After a Thursday-night Twitter rant against Hillary Clinton, Trump unleashed a stream of attacks Friday morning where he acknowledged publicly for the first time that he is under investigation for obstruction of justice related to his firing of FBI Director James Comey over the "Russia thing."
Trump's latest blunt-edged Twitter manifesto comes just one week after he grandly announced "total and complete vindication" after Comey's testimony before U.S. senators.
Like most of his early-morning "Fox and Friends"–inspired tweets of passion — which have already been used against his administration in court — Trump's latest public soundboarding isn't likely to help him, or his fledgling administration.
Shortly after Trump's tweets, ABC News reported that Rosenstein, the DOJ official who has final say over all matters related to the special counsel, may recuse himself from the ever-widening investigation into Russia's meddling in the 2016 election. AG Jeff Sessions recused himself from the investigation on March 2, after reports surfaced he lied during his confirmation hearing about meetings he had with Russian ambassador Sergey Kislyak during the campaign.
Eric Trump's luxury wedding planner to head NYC low-income housing
Donald Trump bolstered his reputation for promoting members of his family and inner circle to top public posts by appointing a longtime aide who worked as his family's event planner to run the office overseeing federal housing in New York.
Lynne Patton was appointed Wednesday to run the U.S. Department of Housing and Urban Development's Region II, which includes New York and New Jersey. While she is believed to have no background in housing administration prior to 2017, Patton did organize Eric Trump's wedding, which took place in a gold room at Mar-a-Lago.
Patton began working for the Trump Organization in 2009, organizing celebrity golf tournaments and other projects. She was vice president at the Eric Trump Foundation, a charity that's now the subject of an investigation into how its funds were spent. She also worked as the liaison to the Trump family during his presidential campaign, claiming her role in the team was "clear proof that he is not a bigot or a misogynist."
Patton has faced scrutiny of her credentials – including an ambiguous line on her LinkedIn page that appeared to claim she received a juris doctorate degree in 2000 from Quinnipiac University School of Law (the letters "N/A" appeared after the J.D. notation.) After the school said publicly that she attended for two semesters but had never graduated, Patton responded by tweeting that she had listed the qualification as not applicable because she hadn't finished law school.
Patton has been an enthusiastic champion of the president on social media, posting a yellowed newspaper report Thursday of a youthful Trump leaping from his limo to stop a bat-wielding mugger in his tracks.
Day 147

June 15
Now Kushner's business dealings are reportedly under investigation
Special counsel Robert Mueller has now expanded his investigation to include Jared Kushner's business dealings, the Washington Post reported Thursday. Kushner, President Donald Trump's son-in-law and adviser, was previously reported as a "person of interest" in the Russia probe, but this is the first report indicating that Kushner's finances have specifically drawn Mueller's eye.
Kushner isn't the only Team Trump member whose bank account is reportedly under federal investigation — former Trump associates Michael Flynn, Paul Manafort, and Carter Page's financial dealings are also all reportedly being examined. And at this point, Kushner is no stranger to the Russia spotlight, drawing criticism for failing to reveal that he'd met with Russian officials until media reports brought them to light, and for reportedly suggesting to a Russian diplomat that they should set up a secret, secure line to the Kremlin — all before Trump officially took office.
Australia's prime minister imitates Trump in leaked audio
Australian Prime Minister Malcolm Turnbull was among the first lucky world leaders to experience the odyssey that is an angry Donald Trump phone call, and now he's the first leader to mock the U.S. president — the first to be recorded, anyway.
In audio leaked to the media from the annual Mid-Winter Ball, Turnbull is heard doing his best Trump impression for a room full of Australian media types at the country's Parliament House.
Turnbull described his recent in-person meeting with the U.S. president as "beautiful," and joked about it putting him "at ease."
"The Donald and I, we are winning and winning in the polls. We are winning so much, we are winning, we are winning like we have never won before," continued Turnbull, who faces growing disapproval from Australian voters.
The prime minister even made a Russia-investigation crack, saying elections are easy to win because "I have this Russian guy."
Turnbull called his Trump routine a "good-humored roast" and bemoaned the fact that the Mid-Winter Ball event, typically honored as off the record, was recorded and released to the public.
The U.S. embassy in Australia expressed little concern over the matter, saying, "We take this with the good humor that was intended."
No reaction from Trump (yet), but Turnbull can probably expect another "fantastic" phone call in the near future.
Trump reacts with predictable fury about being investigated
Three things are certain in life: Death, taxes, and President Trump tweeting his reaction to any news story he doesn't like. So his tweet Thursday decrying the Washington Post's bombshell story reporting that special counsel Robert Mueller was now investigating Trump for obstruction of justice was only a matter of time.
Trump followed up by describing Mueller and his team as "very bad and conflicted people."
The president's responses broadly line up with a leaked White House memo outlining the administration's plan to spin this story.
According to the document, sent to the Washington Post's White House bureau chief Philip Rucker, the administration is suggesting that the shift in focus means Mueller has "struck out on trying to prove collusion." Another plan is to focus on the leaks, something the administration did Wednesday night. "The FBI leak of information regarding the president is outrageous, inexcusable, and illegal," Mark Corallo, a spokesman for Trump's personal lawyer, Marc Kasowitz, said.
But the Post's report makes no mention of the FBI, citing instead "five people briefed on interview requests [for] senior intelligence officials as part of a widening probe that now includes an examination of whether President Trump attempted to obstruct justice."
Also Thursday, Russian President Putin achieved some top-grade trolling during a live TV broadcast. Conducting his annual Q&A with the Russian people, Putin offered ousted FBI Director James Comey asylum.
"If there is some kind of persecution, we would be ready to offer political asylum to Mr. Comey if he is persecuted in the U.S.," Mr Putin told the audience.
Day 145 June 14
Mueller reportedly investigating Trump for obstruction of justice
Special counsel Robert Mueller is now examining whether President Donald Trump obstructed justice in his dealings with former FBI Director James Comey, the Washington Post reported Wednesday.
Trump unexpectedly fired Comey on May 9, and an investigation into possible obstruction of justice was reportedly begun days later — before Mueller was even named special counsel. He took over the investigation on May 17.
Comey said last week while testifying before the Senate Intelligence Committee that Trump not only asked him to drop his investigation into former national security adviser Michael Flynn but also asked Comey what he could do to "lift the cloud" of the probe into possible collusion between Trump's campaign and Russia. Comey said he didn't act on the president's requests, though he did assure the president he wasn't personally under investigation.
Trump wanted Comey to say so publicly, but Comey said he refrained from doing so in order to avoid the potential need to correct the record later. Trump reportedly hounded Director of National Intelligence Dan Coats and National Security Agency Director Mike Rogers to do the same; both also refused.
Trump later told NBC's Lester Holt that the Russia investigation was on his mind when he fired Comey.
If Mueller concludes Trump obstructed justice, it's far from certain what would happen next. The Justice Department has long maintained that a sitting president should not be indicted, so it would instead fall to Congress to determine whether to kick Trump out of office. That's a political, not a legal, proceeding — and Republicans are hardly eager to remove the president.
Nevertheless, the revelation that Mueller is investigating Trump represents a dramatic expansion of the Russia probe.
196 Democrats sue Trump for violating the emoluments clause
President Trump got an unwanted birthday present Wednesday, when almost 200 congressional Democrats filed a lawsuit against him, claiming that Trump has violated a centuries-old anti-bribery provision which prevents the president from accepting gifts and benefits from foreign leaders.
The lawsuit states that foreign diplomats have been booking rooms at Trump hotels "to curry favor" with the U.S. president, saying that because Trump retains interests in his global business empire, he is in violation of the Constitution's "foreign emoluments clause."
A copy of the lawsuit seen by the Washington Post argues that the clause means Trump would need to obtain "the consent of Congress" before accepting any gifts. As yet, no Republicans have signed up to the lawsuit, but Sen. Richard Blumenthal, who is leading the effort, said they were more than welcome to join the party. The charge is backed by 196 congressional plaintiffs – more than any lawmakers ever to back a lawsuit against a sitting president before.
Earlier this week Trump was sued by two attorney generals alleging that payments to Trump violated the Constitution's anti-corruption clauses, while five committees in Congress are conducting active investigations into various issues related to Trump's administration.
Day 145

June 13
Trump tells senators to make his "mean" health care plan nice
When the House of Representatives passed a bill to repeal the Affordable Care Act, President Donald Trump loved it so much he held a Rose Garden ceremony for a piece of legislation that had yet to actually pass the Senate. But what a difference a month makes: Trump is now reportedly advising Republican senators to pass a "more generous," less "mean" version of the bill he championed, according to the Associated Press.
Apparently, heaps of "terrible" news coverage have convinced the president that the House bill is too difficult to defend, though Politico reports that Trump did not give senators any firm directives about what he'd like to see in the Senate version. It is also unclear what exactly Trump thought was "mean" about the original bill, though the Congressional Budget Office did find that the measure would cost 23 million Americans their health care coverage.
Still, Trump's move isn't a complete 180 degree turn from his previous stance: He still reportedly wants to pass an Obamacare replacement this legislative session, and warned senators that they risked losing their seats if they didn't.
"The message really was, I know you have your differences but work through them and let's figure out a way to get it done," Republican Sen. John Thune, of South Dakota, told Politico. "We have to get a product."
Trump's friend claims the president is thinking about firing Robert Mueller
A longtime friend of Donald Trump claims the president is considering firing Robert Mueller, the man currently overseeing the investigation into Russian interference in the 2016 election.
Chief executive of Newsmax Media Christopher Ruddy, who has been friends with Trump for decades and was at the White House Monday, told PBS that evening that Trump was "considering, perhaps, terminating the special counsel."
Pointing to Trump's personal attorney, who declined to rule out firing Mueller during an appearance on ABC's "This Week," Ruddy said, "I think he's weighing that option," adding, "I personally think it would be a very significant mistake."
The White House, for its part, has vehemently denied the assertion. "Mr. Ruddy never spoke to the president regarding this issue," Sean Spicer said in a statement several hours later. "With respect to this subject, only the president or his attorneys are authorized to comment."
When asked about his claims by CNN, Ruddy said: "My quote is accurate."
Ruddy is not the only Trump surrogate to float the idea. Former speaker Newt Gingrich urged the president Saturday to "rethink" Mueller's position.
Rep. Adam Schiff, the top Democrat on the House Intelligence committee, told CNN's Anderson Cooper that he took Ruddy's claim seriously. "It wouldn't surprise me at all, even though it would be absolutely astonishing were he [Trump] to entertain this. The echoes of Watergate are getting louder and louder."
In a radio interview Tuesday, House Speaker Paul Ryan said that the president should "let Bob Mueller do his job."
Cabinet members take turns praising Trump at meeting
Donald Trump's public disapproval ratings may have returned to their highest-ever level – 59 percent, according to the latest Gallup tracking poll – but within his Cabinet, there's nothing but praise and adulation for the beleaguered president.
As Trump convened his first full Cabinet meeting Monday, reporters present were witness to an extraordinary display of political sycophancy, with assembled officials taking turns to shower Trump with compliments and express their gratitude for the privilege of being able to serve him.
Trump set the tone when he kicked off the meeting with a hyperbolic assessment of his own achievements in office. "Never has there been a president, with few exceptions – case of FDR, he had a major depression to handle – who has passed more legislation and who has done more things than what we've done," he said, overlooking the fact that, for all his executive orders, little progress has been made on the key items on his legislative agenda so far.
He then threw it over to his Cabinet to say a few words, beginning with Vice President Mike Pence. Fearless feedback it was not.
"Greatest privilege of my life is to serve as Vice President to a president who is keeping his word to the American people," said Pence, before others followed up with more flattery for the beaming president.
"We thank you for the opportunity and blessing to serve your agenda," fawned White House Chief of Staff Reince Priebus.
"I can't thank you enough for the privileges you've given me and the leadership that you've shown," gushed Tom Price, secretary of Health and Human Services.
"It's an honor to be able to serve you," said Attorney General Jeff Sessions.
Senate Minority Leader Charles E. Schumer couldn't resist a spoofy response shortly after, releasing a pointed video of his staff flattering him at a morning meeting.
"You have great hair," says a staffer in the clip. "Nobody has better hair than you."
Day 144

June 12
Trump once gave money to the theater staging his mock assassination
Over the weekend, Delta Airlines and Bank of America withdrew financial support for Shakespeare in the Park's production of "Julius Caesar," which sees its ill-fated titular character decked out in a familiar-looking blond wig and red tie before his violent end. But it turns out the relationship between the Public Theater and President Donald Trump wasn't always so bloody.
In fact, back in 1987, Trump and the Public Theater got along so well that he made the theater company the beneficiary of the Trump Foundation's very first gift, David Farenthold — a Washington Post reporter who tracked Trump's charitable giving — first reported on Twitter.
And while it's not unusual for a president to give money to the arts, as Farenthold's extensive reporting has revealed, it's somewhat unusual for Trump to have given at all.
But the controversy over a presidentially-inspired character is unusual, especially given past iterations of the play. Though Delta said in a statement that "no matter what your political stance may be, the graphic staging of 'Julius Caesar' at this summer's free Shakespeare in the Park does not reflect Delta Air Lines' values," the airline was also the sponsor of a 2012 production of Julius Caesar that based its assassinated character on Barack Obama.
Trump Senior has yet to comment on the play, which runs through most of June — a long time to refrain from tweeting. Still, Trump's son Donald Jr. weighed in in his father's stead Sunday with a "serious question" about the play's funding, wondering if art is allowed to be political.
It is.
Day 141

June 9
Trump: Maybe I taped Comey, maybe I didn't
Maybe President Trump does have secret tapes of his meetings with former FBI Director James Comey. And maybe he doesn't.
The president wants to keep everybody guessing. When asked the question point-blank by a reporter on Friday, Trump sort of amazingly refused to answer.
"Well, I'll tell you about that maybe sometime in the very near future," he replied, standing next to the Romanian president in the Rose Garden. "But in the meantime, no collusion. No obstruction. He's a leaker."
Trump first suggested he might have tapes of his conversations with Comey when, days after firing Comey, he tweeted, "James Comey better hope that there are no 'tapes' of our conversations before he starts leaking to the press!"
But ironically, Comey revealed Thursday in his testimony to the Senate Intelligence Committee that the president's tweet actually spurred Comey to share more, not less, about his meetings with Trump.
Because he believed that such tapes could corroborate his account of what happened, Comey leaked a memo detailing a conversation where Trump allegedly asked Comey to drop his investigation into former national security adviser Michael Flynn. "Lordy," Comey said during his testimony last week, "I hope there are tapes."
To cap off the news conference, Trump accused Comey of lying on the stand, which would be perjury since Comey was under oath. "James Comey confirmed a lot of what I said. And some of what he said wasn't true," Trump claimed.
Trump broke his Twitter silence to accuse Comey of perjury
It took a full 17 hours, but Donald Trump finally broke his Twitter silence about the sensational testimony former FBI Director James Comey gave to the Senate Intelligence Committee on Thursday.
So was it worth the wait?
Well, the U.S. president started by accusing Comey of telling "so many false statements and lies" — which, for the record, would amount to perjury, since the former FBI director testified under oath. Trump then reiterated what his lawyer and some in the conservative media had said Thursday: that Comey's testimony wasn't an indictment of Trump's actions but rather a "total and complete vindication."
Just 45 minutes later Trump followed up with a tweet about his favorite news outlet.
The gap between Trump's first Friday-morning tweet and his previous post on Wednesday morning at 8:17 a.m. is the second-longest Twitter drought for Trump since he declared his candidacy for the presidency, according to the Washington Post. It fell just three minutes short of the overall record.
Day 139

June 7
Ex–U.S. spy chief says Trump's Russia probe is worse than Watergate
The former director of national intelligence under President Obama said the most infamous political scandal in U.S. history is nothing compared to the current Russia investigation.
"I think if you compare the two, that Watergate pales, really, in my view, compared to what we're confronting now," Clapper told reporters at the National Press Club of Australia.
Remember that President Richard Nixon resigned after the Watergate scandal, the cover-up of a 1972 burglary at the Democratic National Committee headquarters at the Watergate Hotel in D.C. that led to the indictment of 69 administration officials.
James Clapper, who also served as director of the Defense Intelligence Agency from 1991 to 1995, is also unsettled that Trump has continued to pursue a closer relationship with Russia despite evidence of Moscow's desire to interfere in the 2016 U.S election — and then disclosed highly classified information to two high-ranking Russian officials in the Oval Office.
"His subsequent actions, sharing sensitive intelligence with the Russians and compromising its source, reflect either ignorance or disrespect, and either is very problematic," Clapper said.
Day 138

June 6
Trump allegedly asked at least four people to stop the Russia investigation
President Donald Trump apparently can't stop complaining about the federal investigations into his White House officials and their alleged misconduct — even when those complaints might fall on inappropriate ears. So far, Trump has reportedly asked at least four intelligence officials to somehow intervene or even halt the investigations.
Ex-FBI Director James Comey: Trump reportedly asked Comey to drop his investigation into Trump's former national security adviser Michael Flynn, shortly after Flynn resigned for misleading Vice President Mike Pence about the nature of his conversations with a Russian adviser. "He is a good guy. I hope you can let this go," Trump reportedly told Comey, emphasizing that Flynn — who is now at the center of multiple federal inquiries — had done nothing wrong.
Director of National Intelligence Daniel Coats: As reported by the Washington Post Tuesday, Trump asked Coats to publicly deny that Trump's campaign colluded with Russia during the presidential election, and complained to him about Comey's handling of the Russia investigation, suggesting that Coats step in and move the investigation away from Flynn. Coats believed that Trump's words crossed the line meant to separate the White House and the government's intelligence apparatus, and declined to intervene, according to associates Coats told about the meeting.
CIA Director Mike Pompeo: During that same meeting, Trump also reportedly asked Pompeo to get involved in the federal investigation into Russia. Pompeo's office declined to comment to the Washington Post.
National Security Agency Director Adm. Michael Rogers: Trump separately asked Rogers to also deny that his team colluded with Russia, according to the Washington Post. Like Coats, Rogers reportedly turned down Trump's request, since it would require the two officials to not only issue statements on ongoing investigations — something intelligence agencies often refuse to do — but also release false statements.
Coats and Rogers will both testify Wednesday in front of the Senate Select Committee on Intelligence, which will also hear Comey's testimony Thursday. All three men are expected to be asked about their interactions with Trump.
Jeff Sessions reportedly offered to resign
Though Attorney General Jeff Sessions was one of the first senators to support President Donald Trump during the campaign, 2016 was many, many scandals ago. In the interim, the two men's relationship has apparently grown fraught.
One source of tension occurred back in February, when then–FBI Director James Comey pulled Sessions aside and told him he didn't want to be left alone with Trump ever again, the New York Times reported Tuesday. Comey reportedly didn't tell Sessions why he needed him to serve as Trump's glorified babysitter, but just one day earlier, Trump had reportedly sent Sessions and Vice President Mike Pence out of the room before telling Comey that he should let the investigation into former national security adviser Michael Flynn go. Comey reportedly hoped that Sessions could serve as a barrier between the FBI and the White House, though Sessions told him he couldn't make any promises that Trump wouldn't try to get Comey alone again.
And that was before Sessions recused himself from the Russia probe, a decision that may have fatally poisoned his relationship with Trump. Sessions suddenly recused himself in March, following the revelation that he'd failed to tell Congress about conversations he'd had with a Russian ambassador, but Trump reportedly believes that the recusal only led the Russia investigation to continue and grow in scope.
Things between the two men are now so far south that Sessions even recently offered to resign, ABC reported Tuesday.
Trump cut the one sentence that would have assured NATO
Trump said a lot of things on his first, almost universally panned trip abroad in May (Saudi Arabia and Bahrain seemed quite pleased), but here's a few he pointedly skipped.
In fact, virtually every traditional European ally and most of Trump's most senior staff noticed the omission. None were pleased. The slight was one of many Trump offered to his European counterparts during his time abroad.
But rest easy — Mike Pence has assumed the responsibility of reassuring NATO that the U.S. is in fact committed, for now at least.
Flynn gives Russia investigators more than 600 pages of documents
Former national security adviser Michael Flynn has handed over more than 600 pages of documents to the Senate Intelligence Committee in response to two subpoenas related to the committee's investigation of Russian interference in the U.S. election.
The handover of the documents, which CNN reported Tuesday, involves mostly business records. But also included are personal documents "based on the narrowed request from the committee," a source told CNN.
Tuesday marks the deadline for compliance set by the committee for Flynn to respond to the pair of subpoenas.
The retired Army lieutenant general's compliance marks a reversal of sorts from last month, when Flynn said he would invoke his Fifth Amendment rights rather than cooperate with a separate subpoena seeking records of his communication with Russian officials. Intelligence Committee Chairman Richard Burr said that the panel was considering holding Flynn in contempt as a result.
Flynn served as President Donald Trump's national security adviser for a grand total of 24 days. He was forced to resign after the Washington Post revealed that the DOJ had warned Trump in late January that Flynn could be vulnerable to blackmail by Russia. He also reportedly misled Vice President Mike Pence about the nature of his communication before the inauguration with Russia's ambassador to the U.S.
After his resignation, Flynn filed paperwork acknowledging he had been working as a foreign agent for Turkey during Trump's campaign.
Top lawyers reportedly won't represent Trump in Russia probe
When special counsel Robert Mueller took over the Department of Justice's investigation into the Trump campaign's potential collusion with Russia, the White House started shopping around for legal representation for its leader.
But after no's from at least four top law firms, Donald Trump's longtime attorney Marc Kasowitz, who has little to no experience dealing with government probes, remains in charge, five sources familiar with the matter told Yahoo News.
The reasons for the firm's rejections vary from concerns that Trump won't listen to advice to worry that he won't pay. The list of big-league lawyers who've rejected Trump reportedly include:
Brendan Sullivan, of Williams & Connolly

Ted Olson of Gibson, of Dunn & Crutcher

Paul Clement and Mark Filip, of Kirkland & Ellis

Robert Giuffra, of Sullivan & Cromwell

Reid Weingarten, of Steptoe Johnson

A.B. Culvahouse Jr., of O'Melveny & Myers
Mayor of London takes the time to tell Trump he's not welcome in the U.K.
The trans-Atlantic spat between Donald Trump and the mayor of London showed no signs of abating on Tuesday.
Since Trump began attacking Sadiq Khan for his reassurance to Londoners in the aftermath of Saturday's terror attack, the mayor of London has repeatedly said that he was too busy to respond. On Tuesday, however, Khan found some time.
In interviews with several news outlets, Khan called Trump's comments about Muslims "ignorant" and repeatedly said the U.K. government should cancel Trump's planned state visit to the country (the date hasn't been scheduled yet).
"I don't think we should roll out the red carpet to the president of the USA in the circumstances where his policies go against everything we stand for," he said on national news outlet Channel 4 News.
"There are millions of Muslims around the world who love America, me included. And to play into the so-called 'ISIS narrative' that Western liberal values are incompatible with Islam is ignorant," Khan added on "Good Morning Britain."
Prime Minister Theresa May, who had also previously avoided directly criticizing Trump for his tweets about Khan, also finally said something negative about the U.S. president. "I think Donald Trump is wrong in what he said about Sadiq Khan, in relation to the attack on London Bridge," May told The Sun on Tuesday.
But that was about as far as the prime minister was willing to go before confirming that the state visit would go ahead as planned. "The relationship with America is our deepest and most important defense and security relationship," she added.
Trump seems to forget Qatar is a major U.S. ally in tweetstorm
Someone should show President Trump a military map.
With one early-morning tweet on Tuesday, Trump threw himself, and the U.S., into the middle of the greatest diplomatic crisis to rock the Persian Gulf in decades. The president appeared to side with Saudi Arabia and several other Arab countries in their diplomatic row with Qatar.
In fact, Trump didn't just get involved; he seems to be taking credit for triggering the rift. "During my recent trip to the Middle East I stated that there can no longer be funding of Radical Ideology. Leaders pointed to Qatar — look!" he tweeted.
Seven countries cut ties to Qatar yesterday over allegations that the small, oil-rich country is supporting terrorism and causing regional instability. Qatar denies such allegations and calls them "unjustified" with "no basis in fact."
But like most things that can only be made worse by a morning tweet from the U.S. president, the situation is deeply complicated and could have major ramifications throughout the Middle East. Secretary of State Rex Tillerson and Defense Secretary James Mattis have largely stayed out of it, while all concerned parties attempt to resolve the row.
And with good reason. The spat involves many important regional allies to the U.S.
Qatar, for example, is home to the largest U.S. military base in the Middle East, and is also a coalition partner in the U.S.' fight against the Islamic State group.
Neither Mattis nor Tillerson has commented on Trump's tweets.
Day 137

June 5
Trump can't stop undermining his own "TRAVEL BAN"
In yet another early morning tweetstorm, Trump slammed the Department of Justice for its "watered down, politically correct" version of the "TRAVEL BAN."
Not only did the president undercut the competency of his Department of Justice (run by one of his campaign's earliest supporters, Jeff Sessions), he also used the exact language to describe his executive order limiting travel to the U.S. from six Muslim-majority countries that his administration had desperately been trying to avoid.
As PolitiFact pointed out, Department of Homeland Security Secretary John Kelly told Fox News' Chris Wallace on May 28, "[I]t's a travel pause, remember, not a travel ban." Before that, in a March 6 interview with Wolf Blitzer, Kelly also called it a "pause."
The DOJ went to great lengths to differentiate Trump's second executive order from the first, which federal courts almost immediately halted due to concerns of religious discrimination. But Trump's tweets Monday minimized the difference between the two, which could harm his chances in the Supreme Court.
That "sad" fact was pointed out on Twitter by lawyer George Conway. His tweet is notable because he's a partner at the prestigious firm Wachtell, Lipton, Rosen & Katz  who has argued cases before the Supreme Court. It's also notable because he is the husband of close Trump adviser Kellyanne Conway.
If Trump would just put down his phone, the travel ban might actually be instituted. Both judges who blocked the second version in March cited Trump's past comments as evidence that the order was specifically directed at Muslims.
Trump is just one point away from his lowest approval rating yet
For this ratings-obsessed president, it's been pretty much downhill since the middle of March. The latest Gallup poll tracking approval of Donald Trump's performance shows his numbers in their longest period of decline since he took office. Between May 28 and June 3, his rating dropped from 42 percent to 36 percent, one point away from his all-time low of 35 percent, on March 28. Trump had a big week before the sudden decrease in his approval rating, including bragging about firing "nutjob" FBI Director James Comey, leaking confidential intelligence to Russia, and pulling out of the Paris climate accord.
Two days after inauguration, on Jan. 22, Trump's approval was at 45 percent, his highest — but very low for a new president. A downward trend ensued, with his rating dipping to 38 percent on Feb. 16 but then inching up again to tie his high on March 11, with 45 percent of Americans thinking Trump was doing a good job at that time.
Other reputable polls such as Quinnipiac and Monmouth corroborate Gallup's findings. Quinnipiac currently puts Trump at a 37 percent approval rating and Monmouth has him at 39 percent. According to Gallup, President Obama was at 61 percent and George W. Bush was at 55 percent at the same point in their presidencies.
The three mentioned polls were not originally included in Trump's list of fake news, but they are negative, which means he might discount them anyway.
Trump's NATO speech reportedly blindsided his own Cabinet
It turns out Donald Trump's national security team was just as surprised by his first speech to the North Atlantic Treaty Organization as the world leaders who attended it.
Trump took the opportunity on May 25, during his first rip overseas, to once again reprimand NATO-member nations that haven't spent as much on defense as the U.S. — instead of reaffirming Article 5, known as the collective-defense clause, which states that an attack on any member is an attack on all the members, as planned.
"This is not fair to the people and taxpayers of the United States," Trump said, referring to "chronic underpayments" from other member-nations, as the crowd shifted uncomfortably and exchanged glances.
The direction of the speech reportedly caught three top administration officials — National Security Adviser H.R. McMaster, Defense Secretary James Mattis, and Secretary of State Rex Tillerson — off guard. They all thought Trump was going to re-commit to Article 5, Politico reported. In fact, they had worked for weeks to make sure the point was included in the president's speech, according to five sources familiar with the matter. And a White House aide told the New York Times it was in just a day before Trump visited NATO.
The only time NATO invoked Article 5 was to defend the United States after the Sept. 11 attacks in 2001. Especially following the terror attack on a concert in Manchester, which took of the lives of 22 people and wounded countless others, many thought Trump would address America's commitment to defending its allies.
Trump is still insulting the London mayor after terrorist attack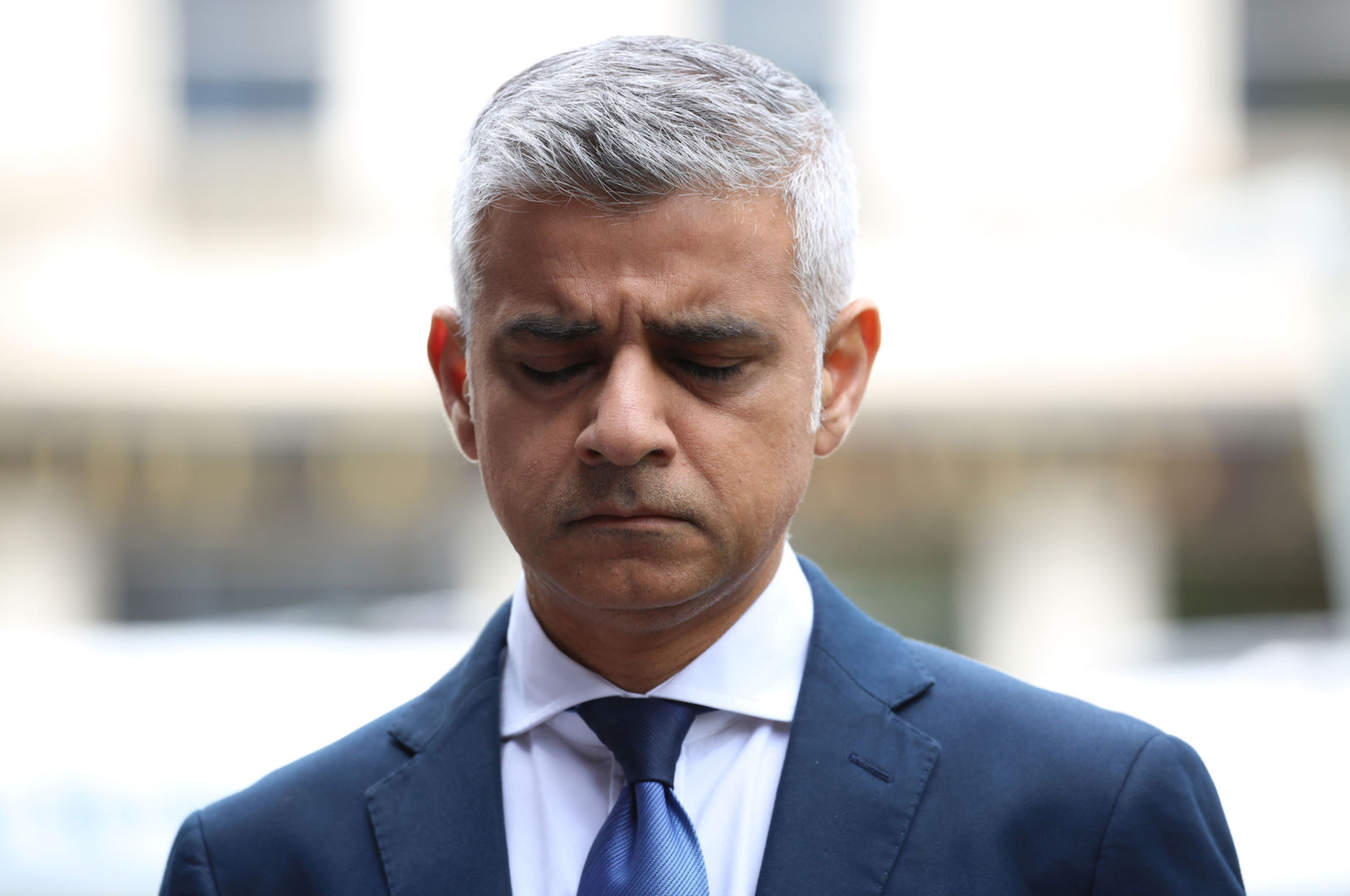 Seemingly rested from his 23rd golf outing in 19 weeks, Donald Trump capped off his barrage of "Fox & Friends"-inspired rants Monday morning by doubling down on his attacks on the Mayor of London Sadiq Khan, who is coping with Saturday's terror attack that killed 7 people and injured 48 more.
As with his first, much maligned attack on Khan in the immediate aftermath of Saturday's deadly terrorist attack in London, Trump took Khan's words out of context to prove a point that remains elusive to sentient beings. Unless of course, the president of the United States is calling for greater alarm instead of calm.
"There's no reason to be alarmed. One of the things the police and all of us need to do is ensure that we're as safe as we possibly can be," Khan said in an announcement regarding an increased police presence throughout the city.
Khan, for his part, has chosen to ignore the U.S. president.
"He has more important things to do than respond to Donald Trump's ill-informed tweet that deliberately takes out of context his remarks urging Londoners not to be alarmed when they saw more police — including armed officers — on the streets," a spokesman from the mayor's office said Sunday.
At a press conference Monday, Prime Minister Theresa May evaded questions about whether she would condemn Trump's tweets before eventually telling reporters that the mayor was doing a good job and that it would be "wrong to say anything else."
May added that she would not be "afraid to say" when she felt the U.S. president was wrong.
Day 136

June 2
Manafort and Flynn investigations reportedly taken over by special counsel
Robert Mueller, the special counsel tasked with looking into possible links between President Donald Trump's team and the Russian government, is now also overseeing the federal investigations into Trump's former campaign chairman Paul Manafort and ex-national security adviser Michael Flynn, according to reports by the Associated Press and Reuters.
Both Manafort and Flynn were purportedly already under investigation for secretly lobbying on behalf of foreign governments. But Mueller's reported decision to take over these investigations suggests that the scope of the former FBI director's investigation is incredibly broad — and that that's okay with the Justice Department, since Mueller must run many of his investigative choices past his boss, Deputy Attorney General Rod Rosenstein.
Attorney General Jeff Sessions recused himself from the investigation after it was revealed that he failed to disclose conversations with a Russian ambassador to Congress. Rosenstein told the Associated Press that he would do the same if Mueller's investigation extended to Rosenstein's role in Trump's decision to fire Mueller's successor at the FBI, James Comey.
Trump team tried to lift Russia sanctions before Jan. 20, report says
Several officials in the Trump campaign are already in hot water for being a bit too friendly with Russian officials before the election. Some even reportedly discussed the sanctions against the Kremlin for its annexation of Crimea.
Now, it has come out that while Barack Obama's Oval Office chair was still warm, members of the incoming Trump administration tried to lessen and even lift the sanctions entirely, multiple sources familiar with the matter told Yahoo News. In fact, as soon as Trump took office, he reportedly tasked the State Department with developing a plan.
Trump team won't say if the president believes in climate change
Donald Trump's team wouldn't call him a climate change denier — but they also wouldn't call him a believer.
Following Trump's speech announcing that the U.S. will withdraw from the Paris climate deal, two senior administration officials, who asked not to be named, briefed reporters. Questions about Trump's stance on man-made climate change were off topic, according to The Guardian.
When pressed, the officials offered Trump's willingness to renegotiate the Paris accord as proof he believes in climate change but said they hadn't personally spoken to him about his beliefs.
When asked if Trump thinks humans are causing climate change on Wednesday, White House Press Secretary Sean Spicer gave the same excuse. "Honestly, I haven't asked him that. I can get back to you," Spicer answered.
So what is Trump's position? Is climate change man-made? Is it still a hoax created by China?
Or is global warming "bullshit?"
Hopefully, Spicer reports back soon.
"Above average" hurricane season starts without anyone running FEMA
The 2017 Atlantic hurricane season started Thursday without anyone to run the two most important agencies in charge of protecting the U.S. from the violent weather.
The Trump administration has yet to fill the head roles of the Federal Emergency Management Agency (FEMA), the agency responsible for preparation efforts and disaster recovery, and the National Oceanic and Atmospheric Administration (NOAA), the department responsible for forecasting the hurricanes.
While Trump did nominate a FEMA director in April, the nominee hasn't been confirmed. NOAA, which predicted this season would be "above average," doesn't have a pick yet.
Trump has dragged his feet on appointing key roles in his administration, while urging massive layoffs in other organizations, like the Environmental Protection Agency. Of the 559 key positions requiring Senate confirmation, 449 don't have a nominee, according to a database compiled by the Washington Post and Partnership for Public Service.
Day 135

June 1
Trump wants to return the Russian spy houses Obama took away
In the last full month of his presidency, Barack Obama gave Russia 24 hours to vacate two diplomatic compounds in the U.S. being used for "intelligence-related purposes" (or in less presidential terms, spying). Now, as the investigation into Russia's meddling in the election intensifies, Donald Trump is reportedly considering giving them back, according to the Washington Post.
Trump had originally leveraged the properties — one in Centreville, Maryland, and another in Upper Brookville, New York — in exchange for continuing construction on a consulate in St. Petersburg that was halted in 2014 in retaliation for U.S. sanctions imposed on Russia after the annexation of Ukraine.
Two days later, according to several people with knowledge of the matter, Secretary of State Rex Tillerson told Russian Foreign Minister Sergey Lavrov and Russia's ambassador to the U.S. Sergey Kislyak (those guys again) that the U.S. no longer considered the projects linked. While no decisions have been made, Tillerson said, the U.S. is reportedly considering limiting the diplomatic activities allowed to occur at the estates.
The Russian government has owned the properties — where Russian diplomats sailed, played tennis, and just generally chilled — in the United States for decades.
Nigel Farage is a "person of interest" in Russia probe
Nigel Farage has been a U.K. politician, a broadcaster, a Fox News analyst, a Donald Trump hype man, a mustachioed retiree, and a Brexiteer. Now he can add FBI "person of interest" to that list, the Guardian reports.
The former UKIP leader and Trump enthusiast is under scrutiny in the unfolding U.S. counterintelligence probe into ties between Trump's presidential campaign and Russians who sought to influence the U.S. election.
The report makes clear that Farage is not a suspect, nor has he been accused of any wrongdoing, but investigators believe he may have information pertinent to the probe.
Farage has ties to some key players at the heart of the investigation, namely sometimes–Trump adviser Roger Stone and WikiLeaks founder Julian Assange. In March Farage visited Assange at his exile home, the Ecuadorian embassy in London, and when confronted by BuzzFeed News outside the embassy, Farage said he couldn't remember what he was doing there. "I never discuss where I go," he said, "or who I see."
Farage has come out swinging at reports of his inclusion in the ever-widening Trump-Russia probe. Shortly after the news broke, he jumped on Twitter to call it "fake news."
Farage has a quiet and strange history with many of Trump's top advisers, including Attorney General Jeff Sessions and Senior White House adviser Steve Bannon. You can read VICE News' insider report about a 2014 party at the "Breitbart Embassy," which the three attended, and where Bannon promised a remaking of America.
White House lets 11 ex-lobbyists work on issues they lobbied about
Donald Trump runs the White House like a loving, if quarrelsome, father: He doesn't care about who you are or which corporations used to pay your salary — he's happy to have you in the family, regardless.
The White House released a list Wednesday night of the 14 ethics waivers issued to top presidential staffers that allow them to work on issues and at agencies where they used to work as lobbyists. Three of the waivers effectively exempt all senior White House officials from ethics rules, allowing them to work with virtually all political advocacy groups. The remaining 11 name specific officials.
The list includes exemptions for ethics rules that would otherwise affect Trump adviser Kellyanne Conway, chief of staff Reince Priebus, and other White House officials. Other notable figures granted waivers include:
Andrew Olmem, a

former lobbyist

for the financial industry, was granted a waiver to work on issues related to Puerto Rico's debt crisis, financial sector stability rules, and other topics on which he previously lobbied government officials.

Shahira Knight, previously a lobbyist for retirement investment giant Fidelity and

now credited

as the brains behind Trump's attempted tax reform, is allowed to handle "broad policy matters and particular matters of general applicability relating to tax, retirement and financial services issues."

Michael Catanzaro, a longtime lobbyist for the energy industry who

was tapped

as Trump's top energy policy adviser in February, is permitted to "participate in broad policy matters and particular matters of general applicability relating to the Clean Power Plan, the [Clean Water] rule, and methane regulations."
While Obama also issued ethics waivers to his staffers, the Trump White House has so far granted more than five times as many as the previous administration did in its first four months, according to the New York Times. Before taking office Trump promised a far-reaching ban on lobbyists in government, but his late January executive order weakened more ethics rules than it strengthened.
Gabrielle Bluestone, Morgan Conley, Noah Kulwin, Simone Landon, Alex Lubben, Nick Miriello, Carter Sherman, and Christina Sterbenz contributed to these reports.